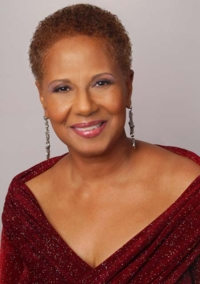 Singer/Songwriter Barbara "Lady Love" Mason, the first true pioneer of Philly Soul, was born in Philadelphia, Pennsylvania in 1947. Although she, like so many other young girls, had dreams of becoming a star, she never thought it would happen to her. But it did.
At age twelve she began playing her grandmother's piano and songwriting. She soon started winning the local talent shows and performing on "record hops". Weldon Arthur McDougal III, a vocalist in Philly Soul group, The Lark's, offered Barbara a chance to perform during intermissions on The Larks' shows in the various nightclubs in the Philadelphia area. McDougal then introduced her to local DJ/promoter, Jimmy Bishop, who would later help finance her debut single, "Troubled Child", and signed her to Crusader Records.
In 1964, at age seventeen Barbara cut her first hit single, "Girls Have Feelings Too", on Arctic Records, and shot to #31 on the U.S. charts. But it would be her third Arctic single that Barbara will always be remembered for. Issued in August 1965, her self-penned "Yes, I'm Ready", blasted off to #3 on the R&B charts and #5 on the Pop charts. The song remained on the charts for some 35 weeks, jockeying with artists such as The Beatles and The Rolling Stones for number one.
Engineering pioneer, Joe Tarsia of Philadelphia's legendary Sigma Studios credits, "Yes, I'm Ready", as the song that originated the "Philly Sound". But it was a musical authority on the realities of everyday love relationships that created Barbara Mason's solid body of work. Ms. Mason is among the first of a new breed of black female singers who sang with the kind of honesty and conviction that can only come from direct knowledge, and life experiences. The complexity of her music is illustrated by candid conversation about love relationships and lavish string arrangements

Barbara's next release in 1966, "Sad, Sad Girl" shot to #12 and by 1968 after two more hits with, "I Need Love", and "Oh, How It Hurts", she left Arctic records in 1970, and inked a deal with film producers and music label, National General, where she performed songs that appeared in the blaxploitation film classic, "Sheba Baby" featuring Pam Grier. She also made a cameo appearance in the label's film release," The Last Stop", starring Troy Donohue in 1972. She also garnered the 1972 NATRA award for best female vocalist. She then joined music label innovator, Neil Bogart's Buddah Records. There she collaborated with Curtis Mayfield, who produced two songs on Barbara's debut album, "Give Me Your Love". The two singles, "Give Me Your Love" and "You Can Be With The One You Don't", both became top 10 R&B hits.
While at Buddah, she released three more albums, "Lady Love" in 1973, 1974's socially conscience, "Transition" and 1975's, "Love's The Thing", which contained the smash hit, "From His Woman To You", an answer to Shirley Brown's Stax classic, "Woman To Woman". All three were top 20 R&B album releases. She also found time to perform songs for another cult film, "Gordon's War", starring Paul Winfield.
In 1977, Barbara signed with Mr. Mayfield's Curtom Records where she released the well received, "Locked In This Position", a collaboration with Philly Soul producer, Bunny Sigler. In 1978, Ms. Mason signed with pioneer Dance music label, Prelude Records where she released the album, "I Am Your Woman, She Is Your Wife". 1979, saw Harry Casey, a.k.a., K.C., of the Sunshine Band and Pop vocalist, Teri Desario record a duet version of Barbara's hit, "Yes, I'm Ready". It was a massive success, reaching #1 on the Pop charts.
Throughout the seventies, Ms. Mason appeared regularly on many national variety and talk shows such as: Soul Train, The Mike Douglas Show, Don Kirschner's Midnight Special, and Dick Clark's American Bandstand. She also hosted her own nationally syndicated program, "Lady Love" - In Day and Night, which featured some of Soul music's all-time legends; The Four Tops, The Spinners, The O'Jays, The Temptations and Billy Paul, filmed live in Philadelphia's Fairmount Park.

In the early 80's Barbara returned to her roots in Philadelphia and signed with WMOT Records which produced the LP, " A Piece Of My Life", a chronicle of her career to that period and the smash, "She's Got The Papers (But I Got The Man)". The song was an answer to Richard "Dimples" Fields' hit, "She Got Papers On Me". In 1984, Ms. Mason scored success with the huge international club favorite, "Another Man", and released the e.p., "Tied Up", on the West End label. The song remains popular today on many Club DJ play lists throughout the world.

Ms. Mason throughout the 90's toured as part of various Classic Soul packages, and remains extremely active on the touring circuit. In 2002, she appeared in the widely viewed PBS special, "Rhythm, Love and Soul" hosted by Aretha Franklin and Lou Rawls. Barbara recently appeared in Memphis, TN in December 2004, as part of the Dave Gest Holiday Extravaganza where she appeared with music legends: Martha Reeves, Kim Weston, Mel Carter, Dionne Warwick, Jerry Butler, Billy Paul, Archie Bell, Gene Chandler, Carla Thomas, Candi Staton, Freda Payne, The Box Tops, and The Doobie Brothers.
Ms. Mason has also toured and shared the stage with: B.B. King, Little Milton, Art Blakey, Al Green, The Manhattans, Blue Magic, Jackie Wilson, The Impressions, Peaches and Herb, Al Wilson, The Delphonics, The Intruders, The Isley Brothers, The Turtles, Harold Melvin and The Blue Notes, The Staple Singers, Bloodstone, The Stylicists, The Dells, Miles Davis, Isaac Hayes, Zapp, The Moments, Gladys Knight and The Pips, and countless other major recording artists in a career spanning four decades.

Barbara Mason has twelve album releases. Her songs have been recorded, covered and sampled by an array of artists from, R&B and Hip-Hop to the Pop and Jazz genres. Her music can be found on various Classic Soul and R&B compilations, as well as soundtracks for the motion pictures, "Auto Focus", and the acclaimed Indie film, "Jesus' Son".
Ms. Mason's vocal style has been a major influence on the careers of many of today's leading female R&B artist such as; Angie Stone, Alicia Keys and Mary J. Blige. She has founded her own recording label and music production company, Lioness Recordings, and Mason Media Productions. In addition to her music publishing company, Marc James Music. In 2006, Ms. Mason graciously accepted the prestigious Pioneer Award from the Rhythm and Blues Foundation, thus cementing her place as a true living legend of Rhythm and Blues music.

Listen to some of Barbara's songs: